Illinois is used to be a two-tier state but the rule effective July 1, 2012 has eliminated the tier in practice because the CPA certificate is not longer being issued.
Illinois remains to be the more popular state for Canadians especially for Canadian CAs because the state does not require the disclosure of Social Security Number and welcomes license applicants via IQEX.
Illinois CPA Requirements
1. Education Requirements to Sit for the Exam

Bachelor degree or above.
150 semester units from an accredited university or educational institution.
Fulfill one of the following:
(a) Graduate Degree in Accounting from school accredited by AACSB or ACBSP:
(b) Graduate Degree in Business from school accredited by AACSB or ACBSP:
Accounting courses: 30 accounting hours at undergrad or graduate level, including at least 1 class each in:
financial accounting,
auditing,
taxation,
managerial accounting.
2 credit hours of accounting research.
(c) Bachelor Degree in Business
Accounting courses: 30 credit hours at undergrad or graduate level, including at least 1 class each in

financial accounting,
auditing,
taxation,
managerial accounting.
2 credit hours of accounting research.

Business courses: 24 credit hours (undergrad or grad level).
(d) Bachelor Degree (general)
Note:
Business courses accepted by the Board include Economics, Business Law, Marketing, Finance, Business and Technical Communication, Business Ethics, International Business, Legal and Social Environment of Business, Management, Business/Management Information Systems, Quantitative Methods and Statistic courses taught by the accounting
Please go to this educational requirement page or this video from NIU for latest update.
Note to international candidates:
Illinois State Board evaluates your foreign credentials themselves, i.e. there is no need to go through the third-party foreign credential evaluation agencies. They do require original transcript / marksheets and I don't think there is any exception.
On whether Illinois State Board accepts other professional qualifications e.g. Indian CA and CIMA, there is no blanket answer, but the rule of thumb is that the qualification must have an academic component. The state board may accept part of the related courses. Candidates are encouraged to send in all of the transcripts and degrees related to the qualifications for them to research and evaluate.
2. Additional Illinois CPA Requirements to obtain the License

Education
Same as the exam requirements.
Work Experience

CPA certificate: none required. However, the 2-tier system ended in July 2012 so you cannot get a CPA certificate without getting the license together.
Full CPA license:

1 year of public or non-public accounting supervised by an active CPA licensee.
Experience may be gained through employment in government, industry, academia, or public practice, and is not required to be acquired under the supervision of a licensed CPA. You can check out Admin Code 1420.10 for exact wording, and Illinois CPA Society's explanation on initial licensing.
Experience must have been gained after completion of the education required to take the Uniform CPA Examination
Check out the Illinois state board licensing section for details.
Ethics Qualification
3. Illinois CPA Requirements on Residency & Age

US citizenship

not

required.
Illinois residency

not

required.
Minimum age: none.
4. Fees
First-timers: $723 (4 CPA exam fees) + $120 (initial application fee).
Credentials evaluation fee (if applicable): $175 for domestic and $250 for international.
5. Continuing Education

CPE is needed for license holders. Click here for Illinois CPA CPE requirements.
6. Other Useful Information
6. Contact
Illinois Board of Examiners
100 Trade Centre Drive – Suite 403
Champaign, IL 61820-7123
Email: help@ilboa.org
Phone: 217-531-0950
Fax: 217-531-0960
What if the Illinois CPA Requirements Don't Work for Me?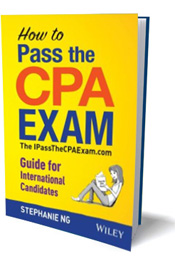 I wrote a step-by-step guide on how to get qualified for the CPA exam for international candidates. Chapter 3 has 26 pages dedicated to tips on how you can sieve through the maze of rules in different jurisdiction in order to find a workable path, together with study tips and test taking strategies that you'll need afterwards.
The book is published by Wiley and is now available in major bookstores, including Amazon.com.
Free Mini e-Course
You can also sign up to my free e-course to learn about the CPA exam process here:
* 1 semester = 1.5 quarters. Photograph courtesy of normalityrelief .