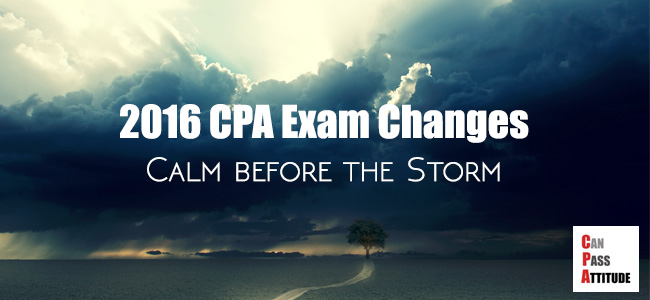 The CPA exam changes in 2016 is not significant in light of the major update in 2017.
Summary of 2016 CPA Exam Changes
Most of the changes on the 2016 exam are a result of recent Accounting Standard Updates, and therefore, they happen mostly in FAR. AUD and REG have minor changes, while BEC has none.
FAR
There are quite a lot of changes. The main ones include:
Elimination of extraordinary and unusual items
Change to the accounting for BIC (Bond Issuance Costs)
Change in accounting treatment of cloud computing expenses
AUD
Relatively minor changes including:
"Generally accepted accounting principles (GAAP) or other comprehensive basis of accounting (OCBOA)" is to be replaced by "Applicable financial reporting framework"
The SSARS 21 updates in full force
REG
Relatively minor changes including:
Few revisions to numerical thresholds indexed for inflation
Possibly increased emphasis on:

General concepts of state and local tax (non-state specific – for example – nexus and apportionment
U.S. taxation of multinational transactions
BEC
No planned updates from the AICPA
Changes in 2016 CPA Review Course Materials
Review courses from various providers are being updated as we speak. Here is a summary of what students should watch out for. You will likely be getting email alerts from your review course provider as well.
Gleim CPA Review
Significant updates in CPA FAR and CPA AUD.  Topics like extraordinary items on the income statement were removed, additional examples were added, content was expanded upon to increase candidate retention and understanding, and in the case of new or changing standards, material was created or updated.
CPA REG received revisions for new thresholds, FICA numbers and other numerical adjustments, as appropriate.  Flowcharts and additional examples were added, as well as editorial changes that made the learning process easier for our candidates.
CPA BEC received editorial changes to make the learning process easier and additional examples were added.
Candidates are advised to check the changelogs portion of each Study Unit (see image below) to review any topics that may have changed:

The changes have already been released in the courses to best prepare candidates for their 2016 exams.  The Gleim team is ready to help if candidates are not sure how these changes may affect their studies or need any further clarification.
Roger CPA Review
Significant updates in: FAR 2.03, FAR 11.03, FAR 13.04, FAR 17.01, and FAR 17.08. Need to re-watch these lectures.
Printable textbooks updates will be available in the "Course Textbook Updates" section of your course outline. They will be marked by an alert icon.
Learn about Roger CPA here.
Surgent CPA Review
The online materials are updated quarterly to ensure that our students receive the most up-to-date information. Surgent lists below the Financial Accounting and Reporting standards applicable to the CPA exam that will become testable in that window. For details, please refer to this FAR Change Alerts.
ASU No. 2015-03, Interest – Imputation of Interest (Subtopic 835-30): Simplifying the Presentation of Debt Issuance Cost
ASU No. 2015-04, Compensation – Retirement Benefits (Topic 715): Practical Expedient for the Measurement Date of an Employer's Defined Benefit Obligation and Plan Assets
ASU No. 2015-05, Intangibles – Goodwill and Other – Internal Use Software (Subtopic 350-40)
ASU No. 2015-07, Fair Value Measurements (Topic 820): Disclosures for Certain Entities
GASB No. 72, Fair Value Measurement and Application
GASB No. 73, Accounting and Financial Reporting for Pensions and Related Assets That are Not Within the Scope of GASB 68
GASB No. 74, Financial Reporting for Post-employment Benefit Plans Other Than Pension Plans
GASB No. 75, Accounting and Financial Reporting for Post-employment Benefits Other Than Pensions
GASB No. 76, The Hierarchy of GAAP for State and Local Governments
Learn about Surgent CPA here.
Yaeger CPA Review
FAR
The term extraordinary items has been eliminated from GAAP and will no longer be used or shown on the income statement.
GAAP now requires management to perform a going concern evaluation to determine whether substantial doubt exists about a company's ability to continue as a going concern.
Customers of cloud computing arrangements that include a software license, will account for them in the same manner as licenses of other intangible assets. If it is not considered a software license, customers will account for the arrangement as a service contract and expense the cost as the services are received.
Debt issuance costs (bond issue costs) will be accounted for as a direct deduction from the carrying amount of the bond, in a similar manner as bond discounts.
AUD
Professional ethics:  Framework for members (of the AICPA) in public practice has "threats" (to compliance with any aspect of the Code of Professional Conduct and "safeguards to bring the threat to an acceptable level.  There is also a framework for members in business.
Per SSARS 21, financial statement preparation is now not part of a compilation. It is a separate nonattest service subject to the two conditions for nonattest services as part of an attest engagement –must be documented in an engagement letter and must have someone other than the auditor (accountant) who does the audit, review or compilation takes responsibility for these statements.  You have a copy of the revised Module 6, which covers this SSARS.

The term "applicable financial reporting framework" [AFRF] is a generic term including GAAP, IFRS, Special Purpose Frameworks, tax basis, etc.
The term "federal awards" includes OMB Circular 133 as discussed in Module 5.

The FASB has issued an ASU on "going concern."  It makes the client management responsible for evaluating this issue and including a footnote if they consider that there is substantial doubt about the entity's ability to continue as a going concern.  The time frame is one year from the issuance of the financial statements.  Auditors' responsibility is to make sure this footnote is presented if applicable.  If it is not so presented, there is an AFRF departure.
Regulation
Regulation is made up of three portions – Professional Responsibilities, Business Law and Taxation.
Professional Responsibilities, which is 20% of the exam, should remain the same for 2016.
The Business Law portion, which is also 20% of the exam, has no updates for 2016.  If any amounts change from year to year, the AICPA Examination Division will not test these types of questions.
The remaining 60% of Regulation tests on Individual Taxes, Transactions in Property, Partnership Taxation, Corporate Taxation and other Tax areas.  In the other Tax areas, the AICPA will test gifts, estates and trusts, exempt organizations and multijurisdictional taxation.  Also tested, are sources of federal tax authority and tax planning.
Since most candidates have had a course in college in individual taxes, but not in partnership and corporation taxation, the AICPA tends to ask more questions on partnership and corporation tax.  For this reason, Yaeger CPA Review has chosen to do in-depth teaching in

all

areas of taxation.
Based on Yaeger's 38 years of teaching CPA Review, the exam does not test on items that change from year to year. Examples of this would be the Tax Extenders, covered under the Tax Extension Act of 2015, and phase outs for individual tax benefits based on Adjusted Gross Income.  Therefore, candidates should study concepts that have remained the same for more than one year.
Examples of tax extenders that will expire at December 31, 2015 are:

The tax deduction for mortgage insurance premiums
The tax deduction for state and local general sales taxes in lieu of state and local income taxes
The deduction from gross income for qualified tuition and related expenses
The change in the Section 179 deduction, which includes any phase outs of the amount to be deducted
The bonus depreciation
The reduction to five years of the recognition period for the built in gains of S Corporations
The deduction for teachers for out-of-pocket expenses

At the time of the preparation of this Update for 2016, the tax extenders, under the Tax Extension Act 2015, have not been approved by Congress and signed by the president.  When the Act is approved and put into law, we will notify all of our candidates.
BEC
The AICPA has not issued any changes to the BEC section of the Exam from 2015 to 2016.
Learn about Yaeger CPA here.
For Your Further Reading